Angry Internet = Cheaper Snickers
The Internet gets a little angry when it's hungry. So we created an algorithm that analyzed online mood every 10 minutes,
and then lowered Snickers prices accordingly across Australia during this 5-week promotion.
Campaign elements included reactive social posts, digital boards and these impressively robotic live price updates from a guy we made up:
1/1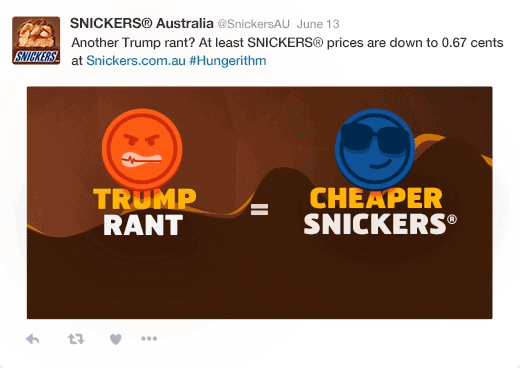 The Hungerithm is now rolling out globally, beginning with Mexico for 2017:
I'm a paragraph. Click here to add your own text and edit me. Let your users get to know you.
CO-CREATIVES:
Jackson Harper and Shannon Crowe
​
2017 Adweek Media Plan of the Year
2017 Cannes – Gold (Cyber, Use of Social Data & Insight)
​
2017 Cannes – Gold (Direct, Real-Time Response)
​
2017 Cannes – Gold (Direct, Use of Real-Time Data)
​
2017 Cannes – Gold (Mobile, Real-Time Response)
​
2017 Cannes – Gold (Mobile, Social Business)
​
2017 Cannes – Gold (Media, Use of Real-Time Data)
​
2017 Cannes – Silver (Promo + Activation, Use of Digital Platforms)
​
2017 Cannes – Silver (Promo + Activation, Real-Time Response)
​
2017 Cannes – Silver (Cyber, Food & Drink)
​
2017 Cannes – Silver (Cyber, Social Business & Commerce)
​
2017 Cannes – Silver (Cyber, Real-Time Response)
​
2017 Cannes – Silver (Direct, Food & Drink)
​
2017 Cannes – Silver (Mobile, Social Trends)
​
2017 Cannes – Silver (Mobile, Integrated Campaign)
​
2017 Cannes – Silver (Media, Use of Data Driven Insight)
​
2017 Cannes – Bronze (Promo + Activation, Food & Drink)
​
2017 Cannes – Bronze (Promo + Activation, Integrated Campaign)
​
2017 Cannes – Bronze (Cyber, Integrated Multi-Platform Campaign)
​
2017 Cannes – Bronze (PR, Real-Time Response)
​
2017 Cannes – Bronze (Direct, Use of Digital Platforms)
​
2017 Cannes – Bronze (Integrated, Integrated Campaign)
​
2017 Cannes – Finalist (Titanium)
​
2017 One Show – Gold (Branded Social / Real-Time Response)
2017 One Show – Silver (Mobile)
​
2017 One Show – Silver (Websites)
​
2017 One Show – Silver (Digital)
​
2017 One Show – Bronze (Data Driven Personalization)
​
2017 One Show – Merit (Branded Social)
​
2017 One Show – Merit (Social & Viral Marketing)
2017 D&AD – Wood Pencil (Best Use of Social Media)
​
2017 Webby Awards – Best Mobile Campaign
​
2017 Webby Awards – Best in Food & Beverage
2017 Effies – Gold (Branded Content)
​
2017 Effies – Bronze (Media Innovation)
​
2017 Effies – Bronze (Food)
2016 Clios – Bronze
​
2016 Inaugural Twitter Awards – Gold
​
2016 MIXX Awards – Gold
​
2016 Spikes Asia Awards – Grand Prix (Media)
​
2016 Spikes Asia Awards – Grand Prix (Mobile)
​
2016 Spikes Asia Awards – Gold (Mobile/Data Insight)
​
2016 Spikes Asia Awards – Silver (Integrated Media)
​
Best Ads on TV:
Ad of the Week
​
Creativity Pick of the Day
​
Fast Company Top 5
​
​
​